Product outline
UTM series have been upgraded to UTM II to better meet the various needs of customers!
Great improvements on the bandwidth (1kHz), sampling rate (6kHz), overload rating (500%), and so on have been made, while all great features of the existing model are succeeded.
We will continue to devote ourselves to research and development of unique products. Please feel free to contact us anytime for further information!
Improved specification & performance
1.Analogue bandwidth 1kHz with high speed sampling rate of 6kHz.

2.Safe overload :500%
3.UTMⅡ series are available in wide range of the rated capacity from 0.05Nm to 10000Nm.
4.4 pulse outout per rotation ( used to be 1 ppr. )
5.Noise immunity has been greatly improved.
High accuracy, stability, slip-ring-less, and compact
High accuracy and stability


1/10000 resolution with outstanding zero stability.
Even small torque variations can be detected by UTMⅡ.

Maintenance-free


No slip ring.
The lifetime of UTMⅡ is mainly determined by the lifetime of bearings.

Max. speed 25000 rpm (0.05 to 10Nm)

Small starting torque


The starting torque of the bearing in the UTMⅡ-0.05Nm is only 0.00001Nm (0.03 %FS).
Actually, the effect of rotating friction can be negligible.

Smart system configuration with no external circuits needed

Simultaneous detection of torque and rotating speed


Real-time dynamic measurement is possible from torque and rotation pulse signals.



Torque variation against angles is detected


Equipped with an optional rotary encoder to the UTMⅡ, torque and angles are simultaneously monitored.

Application Examples
Quality Check of Pumps (Oil pump, Tube pump, Vacuum pump and so on…)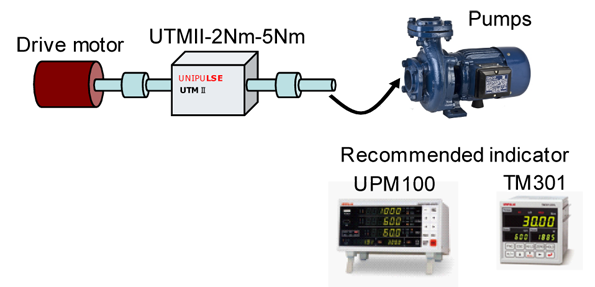 ■ Wide Capacity Range + Variety of Torque Monitors!
·Wide range: 0.05Nm to 10,000Nm
→For various automotive components: Motors, compressors, alternators, EPS unit, pumps, etc….
·UPM100 or TM301 to monitor torque, rotation speed, and power simultaneously!
·No slip rings
→No need to stop the machine to change brush
→Maintenance-free & efficient
→High rotation speed!


Wear/friction test of rubber products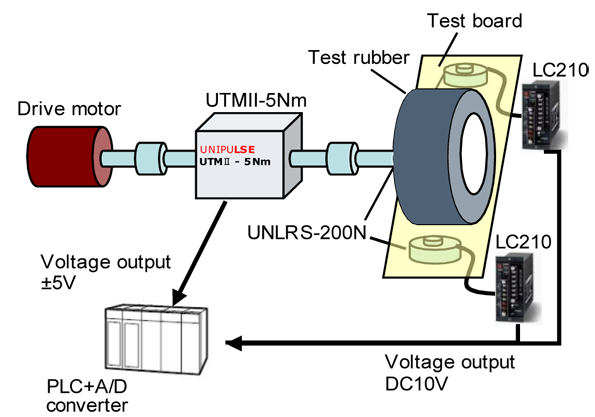 ■ Built-in Amplifier in the Compact Body!
·Compact to fit into limited space of a machine.
·Built-in amplifier: +/-5V
→No need of external amplifier
→Save the cost!
·High-accuracy: 0.03% Non-linearity
→Can be used for wear or friction test!


Torque-angle measurement of seat recliners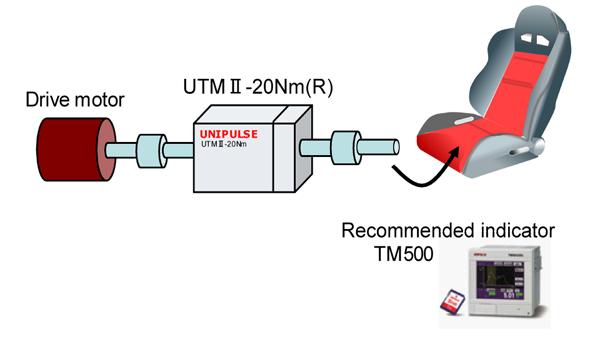 ■ Easy to Perform Torque-Angle Measurement!
·Rotary encoder mounted on the shaft of UTMII
→No need to adjust the alignment of the rotary encoder.
·TM500 for "torque vs. angle" curve
→SD Card option to save the data
→RS-232C for connecting with PLC or PC
Quality check of hinges and dampers

■ High Accuracy & High Safe Overload!

·High-accuracy: 0.03% (non-linearity).
→Can be used for measuring very low torque (e.g hinge torque)
·Rotary encoder option for angle measurement.
·500% Safe overload
→Much safer!
→Ideal when high accuracy is required in low torque range!


Specifications
0.05Nm to 10Nm

Measurement range
Nm
0.05
0.1
0.2
0.5
1
2
5
10
Option
(specifies at time of order)
Rotary encoder
Rotary encoder
Key groove
Ext. dimension
(case size)
W
H
D
mm
54
50
40
57
55
40
Total length
mm
74
84
97
Shaft diameter
mm
5
8
12
Power supply
100mA or less
Max. rotation speed
25000rpm
Approx. weight
160g
180g
270g
20Nm to 10000Nm

Measurement range
Nm
20
50
100
200
500
1000
2000
5000
10000
Option
(specifies at time of order)

Rotary encoder
Key groove

Key groove
Ext. dimension
(case size)
W
H
D
mm
70
68
51
67
74
57
67
79
62
67
79
72
86
103
98
86
119
111
97
141
137

103
166
162

Total length
mm
150
170
177
187
217
286
306
387
447
Shaft diameter
mm
20
25
30
40
60
70
90
110
Power supply
150mA and less
160mA and less
Max. rotation speed
20000rpm
15000rpm
12000rpm
10000rpm
7000rpm
6000rpm
5000rpm
4000rpm
Approx. weight
700g
1.1kg
1.5kg
2.6kg
7.3kg
10.5kg
21.4kg
36kg
Common specifications

Power supply

DC24V ±15% 

Output range

±5V DC Load resistance must be more than 2kΩ

Responsivity

1kHz

Rotation signal

4 pulses per 1 rotation
Open collector Max. ratings 30V, 10mA

Safe overload

500%FS

Non-linearity

0.03%FS (Typ)

Hysteresis

0.03%FS (Typ)

Repeatability

0.03%FS (Typ)

Operation temp . range

-10 to +50℃

Temp. effect on ZERO

0.01%FS/℃ (Typ)

Temp. effect on span

0.01%FS/℃ (Typ)

CE marking certification

EMC directives EN61326-2-3

Product Details (Opens in a new window)
UTMⅡ
Product Type: Torque Meter
Availability: In Stock
---
Available Options
This item will be shipped out swiftly once the order is confirmed!*
*A customer's response is necessary for a confirmation of an order. See also
User Guide
.
You can find detail spec information at UNIPULSE website (Click the link above.) We do not accept cancellation of order at any circumstances.
We accept returns only if it meets the "Return conditions"specified in User Guide. Please contact us for model change before shipping.